News & Noteworthy
2012 Move to New Building Planned
Aero & Auto Stud Specialists purchased a new building in Whitmore Lake, Michigan in December 2011. The new facility will house both our production facility and our corporate offices. Renovations have begun and new production equipment has been ordered. The move to the new building, scheduled for mid-2012, will double our floor space, allowing us to increase services and production to meet the needs of our customers.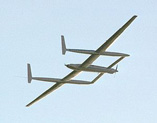 A Historic Achievement
Aero & Auto Stud Specialists, Inc. is proud to have supplied more than 90 percent of the fasteners used in the Teledyne Continental IOL-200 and 0-240 engines used to power the Rutan Model 76 Voyager, the first aircraft to fly around the world without stopping or refueling. The aircraft that made this historic 9-day flight in 1986 is now on display in the Smithsonian's National Air and Space Museum in Washington, DC.